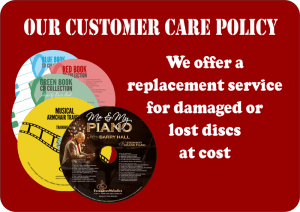 If you receive a damaged or defective item, we will promptly send you a replacement or issue you a full refund after you have returned the damaged or defective product within 30 days of delivery. You will not be charged any additional shipping or handling fees for replacement shipments.
All of our CDs and DVDs have been professionally replicated or duplicated.
Every effort will be made to process your order in the shortest possible time after we receive it provided the resources you order are currently in stock. If you order a number of resources and one or more are not currently in stock, we will post them to you at no extra charge once they arrive in stock. If for some reason this cannot be achieved within 30 days, we will e-mail you an order status. Any products purchased by cheque will be dispatched once the cheque has been cleared.
If a credit card was used for your purchase, a refund will be issued by making a credit to your credit card account, however if you paid by cheque or money order, a refund by the same means will be made and posted to you via Australia Post postal service.