At Aged Care Music Resources, we realised from the beginning how the right music, when correctly managed, can have a huge impact on quality of life for residents in care, especially those suffering with dementia. Hence our motto 'Music makes a world of difference to the elderly'.
Aged Care Music Resources was founded by Graeme Pope in 2014, where he collaborated with a team of professionals to produce music-based resources by industry request. The genesis of the idea came from those engaged in Leisure and Lifestyle work in residential care.
Up until the end of 2019, Graeme had visited over 2000 residential care homes Australia wide. The conversations he enjoyed with industry people is the major source of his education about the aged care industry.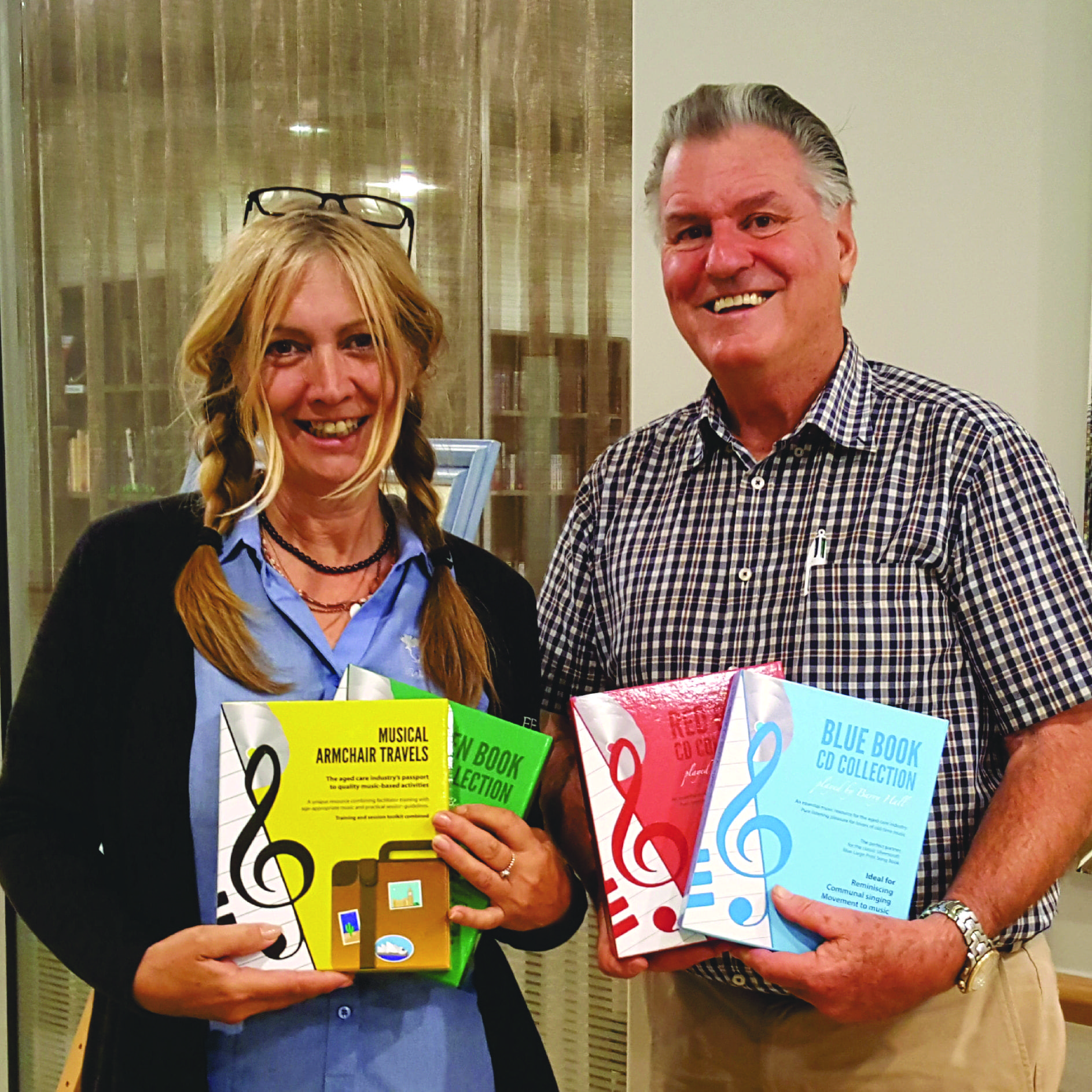 Most aged care facilities in Australia and New Zealand were very familiar with the 'Blue' and 'Red' Large Print Songbooks published by Ulverscroft back in the 1970s. These popular songbooks have been used in residential care over many years, however, many facilities were finding it more difficult to find a pianist who knew those songs, to play for their music activities.
As Graeme visited more aged care facilities, those familiar with his association with John Sidney's music would request music to back the songs in the Ulverscroft Large Print Song Books. They imagined John's piano behind those songs. Sadly, he died in 2002.
A few years after John Sidney died, Graeme had the good fortune to meet Barry Hall OAM in Adelaide. Barry was Mr Music on the Chanel 9 children's program in the early days of television when Humphrey B. Bear first appeared on television. He ran the top-rated radio program 'Choose Your Own' on Adelaide's 5DN for 20 years. When he mentioned to Barry about the requests continually received from Leisure and Lifestyle staff, Barry enthusiastically embraced the challenge to record 381 songs to back every song in those songbooks.
Ulverscroft in the UK granted ACMR permission to mention their name on the front cover and to match the music to the index in their songbooks. Two years later in July 2014, after completing a market survey to ensure a demand existed, we released our flagship music resource, the Blue and Red Book CD Collection; an audio companion specifically designed to match and back the songs in those songbooks.
The Green Book CD Collection, the sequel to the Blue and Red Book CD Collections, was release in October 2017. It is recognised as a premium activities resource which caters specifically for the needs of the Baby Boomer generation. This was identified as a need by those working in the industry, as this cohort are now entering both residential aged care and community-based activity groups, in increasing numbers.
Musical Armchair Travels is a music-based resource quite different to the CD Collections and is a unique package that combines training, a comprehensive music library, and practical-session guidelines to assist aged care staff to run more engaging and therapeutic music-based activities for their clients. Facilitated with music, this activity is a dementia-based program which endeavours to trigger memories that can take people on imaginative journeys and so, during your armchair travels sessions, music becomes a powerful tool to tease out memorable experiences from the participants in your group. We believe we have produced a valuable tool you will use in your musical activity programs for many years to come. It is another music resource born out of numerous requests from managers and those involved with delivering lifestyle and activities programs to our elders in care.
All are quality tools designed and tailored to meet musical needs in aged care. Each resource has been crafted to meet specific requirements in Leisure and Lifestyle programs and created in collaboration with staff engaged in this field of work.
During the production process, careful consideration was given to content, design, functionality, and durability, to ensure they are valued resources in any aged care facility activity toolkit. They are tools designed to support the work of Leisure and Lifestyle staff, the key points being:
1. The music, recorded in studio by two professional old time Australian pianists, is age appropriate.
2. The music resources represent good value considering the amount of music and the quality.
3. These resources save session planning time by supplying music that matches the lyric books.
4. The comprehensive music library allows for the choice of music that has specific meaning to each person.
5. With all four major resources there is music to draw on for any occasion.
6. Music is fully compliant with copyright law.